November 19, 2013 | Posted in Reactive Grip™ Hardware | By Tactical Haptics
There's lots of great news with today's kickstarter update:
We've announced a stretch goal for wireless communication as well as shown new ways to use the Reactive Grip controller. An overview of the update is below, but go to the update #5 on Kickstarter for more info.
Wireless communications stretch goal for the Reactive Grip
Limited Special reward tiers and "Add a Grip" add-ons
We're making it easy to add a controller dev kit to your current dev kit pledge.  We've also added new lower priced dev kit tiers.
How to transform Reactive Grip to take the place of other game peripherals or use it in your projects
See the movie below and collage of images for lots of great ideas of how you can replace a pile of gaming peripherals with our controllers and how you can do with Reactive Grip in your projects.
See all the details in our update on Kickstarter.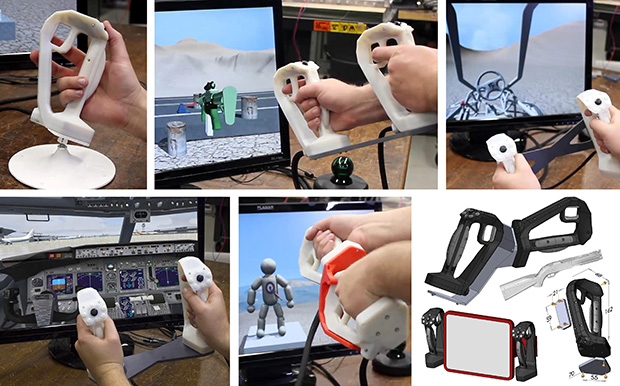 November 2, 2013 | Posted in Reactive Grip™ Hardware | By Tactical Haptics
Contest Winner Announced
We're happy to announce the winner of the below contest, who will receive a free Dev Kit next fall. We thank all those that registered on our website and posting your great ideas for what you'd like to do with your Reactive Grip haptic game controller.
And the winner of the is (drum roll please)…      emart756
==========================
Win a Tactical Haptics Reactive Grip™ Controller before our  Kickstarter launches 7am PST Wednesday 11/6
Our Kickstarter will feature 1-handed and 2-handed Reactive Grip Game Controller Development Kits.
We also hope that those that aren't ready to buy a Reactive Grip Game Controller Development Kit, would also consider supporting us with a small pledge, so that we may one day bring Reactive Grip to your favorite RPG, shooter, or flight sim (or surgery sim, teleoperared robot interface, etc…).
Enter now to win a free Reactive Grip Development Kit!
Just register as a user on the Tactical Haptics website and leave a comment below in this post before our kickstarter goes live Wednesday 11/6 7am PST and tell us:
What you would do with your Reactive Grip game controller?  For example,  are you most excited to slay dragons or pilot a plane with your Reactive Grip controller? Or do you want to teleoperate your battle-bot and feel the destructive force of each blow? Or maybe add physical interaction to your Augmented Reality (AR) Dungeons & Dragons game?
Register and share your thoughts below before our Kickstarter launches to be entered to win!
Stay tuned for details.